We provide household wheelie bin collections in counties Mayo and Sligo. We offer a dependable kerbside collection for general waste and recycling.
240L (Standard bin) Most common size bin. Suitable for 2 people + in household
240L Blue Recycling bin is provided with each waste bin.
23L Brown Caddy is provided *Where Available
There are many benefits of this to you:
Improved environmental responsibility by reduction of biodegradable waste to landfill therefore reducing the generation of landfill gas and leachate
Increased waste recovery on site – recovery solution instead of disposal to landfill
Direct cost savings due to diversion of biodegradable waste from general waste bin
Reduction in consumption of natural resources e.g.  substituting peat moss with a sustainable resource such as compost
Businesses can reduce disposal fees, demonstrate leadership and corporate responsibility, and help the community meet local and national waste reduction goals.
TO KEEP BROWN BIN CLEAN:
Wrap food waste in 2 sheets of old newspaper.
You can also obtain liners for your brown bin i.e. COMPOSTABLE BAGS, These can be got at any leading supermarkets.
Brown materials such as leaves, straw, woody materials or dry grass help to mop up wet waste in the bin.
Keep your bin in a shady area; this will help to keep the material fresh.
COLLECTION OF BINS IS ON ALTERNATIVE WEEKS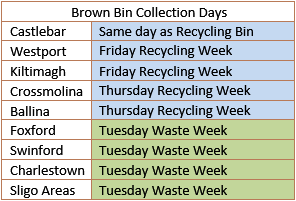 Please put your bin(s) out for collection before 6.00a.m, or the night before hand if possible.
Your bin(s) should be left outside your premises at the kerbside where they can be clearly seen by our bin collectors.
You are responsible for your waste until it has been collected by McGrath Waste Management.
Ensure your bin lid is closed fully so materials are not at risk of falling out
Credit/Laser Card, Direct Debit, Cheque/Cash, Online using
our portal.
Payment can be made at our office.